Links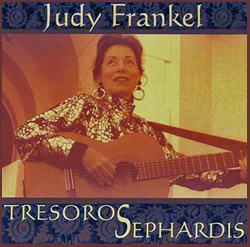 NB: Film links are now on on Film; Sephardic and Ladino links are now on a separate page.
Judy Frankel A memorial for Judy by her ex-husband, Ken Frankel. There are remembrances from family and friends. You can listen to Judy's Sephardic songs at the site, and hear some of her music from the 1960s to the 1980s.
Sephardic Music comprehensive discography
Amazon.com Amazon.co.uk Judy's recordings
The Key to the 500-year old Door Judy's account of her 1989 visit to Belmonte, Portugal, in search of Portuguese Crypto-Jews
Nationalities Unite for a Night of Culture 19th November 1997: a cultural evening sponsored by The Center for Portuguese Studies and Culture at UMass Dartmouth, together with the Center for Jewish Culture and the Cape Verdean Student Alliance. Judy sang some of the songs she learned in Portugal.
Distant melodies Laura Evenson, San Francisco Chronicle, January 13, 1998
She Preserves a Sephardic Legacy That Is Fading Fast Danny Feingold, Los Angeles Times, December 29, 1998
Where have all Sephardim gone? article by Brigitte Sion that includes a short interview with Judy (paragraphs 20 — 21), September 1999
Santa Fe professor's poetry inspires singer David Steinberg, Albuquerque Journal, 11th August 2000. This link takes you to the News Library site where you can download the article for a small fee. Unfortunately I was not given permission to reproduce it.
PSU books renowned singer of Sephardic songs Amy Kaufman
Judy Frankel keeps Sephardic music alive Amy Kaufman reviews the concert at Portland State U on 9th August 2004
Her voice was stirring ... wonderful performance review of the same concert by Max Wolf Valerio (scroll down about three quarters of the page)
Judy Frankel Arthur Benveniste and Anne Treseder, Winter 2008 issue of HaLapid, 1, the magazine of the Society for Crypto-Judaic Studies
New documentary from UP professor Clare Shreve reviews ¡FIESTAREMOS! in The Beacon
1 Hebrew = "The Torch"
J. the Jewish news weekly of Northern California obituary
San Francisco Chronicle obituary
Judy Frankel, the Ladino Songstress, 65 a personal note by Shelomo Alfassa
The New York Times notice and guest book
Los Angeles Times obituary
Remembering Judy Frankel a memoir in the Jewish Women's Archive by Judith Cohen, an ethnomusicologist and performer of Sephardic songs.
El País obituary (in Spanish)
The Jewish Chronicle obituary
A Tribute to Judy Frankel Diana Bryer (see below) — scroll down the page to read the memorial
Sephardic Singer Judy Frankel
Judy Frankel again tributes posted by Peter Ashlock in the Yahoo group, singout
...a beautiful voice and a sensitive soul notice in J. the Jewish news weekly of Northern California
In Memoriam Judy Frankel (.pdf) Anne Treseder, San Francisco Bay Area Early Music News
Remembering Judy Frankel (.pdf) a letter from Rufina Bernardetti Silva Mausenbaum in the Kulanu Spring 2008 newsletter (page 8)
In Memory of Judy Frankel a tribute by Rabbi Brant Rosen
In Memoriam Judy Frankel (.pdf) Isabelle Medina Sandoval in Legacy, Volume 22, Number 2, June 2008 (page 10), the newsletter of the New Mexico Jewish Historical Society
La Voz Dorada de Judy Frankel [The golden voice of Judy Frankel] Isabelle Medina Sandoval, La Herencia, Fall 2008, page 28. You can read the article online and/or purchase a copy; despite the title, the article is in English. It includes a beautiful poem in Judy's memory, Tres Hermanicas.
Judy Frankel — A Celebration of Her Life a photo gallery by Andrys Basten
Judith — Part of the Hanukkah Story Judy is listed as one of the "modern-day Judiths [who] carry on her legacy as they dare to act, to speak, to teach, and to write themselves into the record of American Jewish history. ... and ... whose deeds continue to inspire us."
Hanuka — A Celebration of Light This concert, dedicated to Judy's memory, took place on 10 December 2009 at Berklee College of Music where Judy once studied (see below). It was the debut concert of a new Ladino Music Group, Aljashu. Members of Judy's family were in the audience and "praised the musicians and vocalists for faithfully backing up the melodies and words".
Ladino Music Group Aljashu Debuts in Boston another review of the same concert in the New Cambridge Observer
Say "Yes" to ALJASHU at Berklee on Thursday advance notice of the concert, "dedicated to the joyful legacy of singer, musician, songwriter and ethnomusicology scholar, the late Judy Frankel."
Diana Bryer Studios The New Mexico-based artist's work is vibrant and enchanting and includes two paintings inspired by Judy's singing: Tres Hermanicas (Sephardic Songs of Love and Hope); Rosa de Castilla: the latter after a poem by Isabelle Medina Sandoval which Judy set to music.
Longy School of Music
Berklee College of Music Judy studied at both these Boston schools of music: music theory at the former and guitar at the latter.
Aliamanu Elementary School, Honolulu, Hawaii Judy taught here in the mid-1960s.
Musée d'art et d'histoire du Judaïsme Jewish museum of Paris. Judy gave two concerts here on 13th and 14th May 2001.
East Timor Action Network Judy felt strongly for the suffering of the East Timorese (see San Francisco Chronicle).