Honouring Her Memory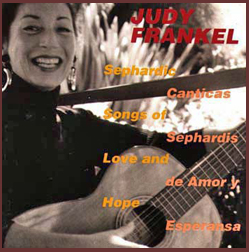 If the desire to give to the one who has passed on is what impels us to learn something we would not have otherwise learned, to do a mitzvah we otherwise would not have done, to go higher and further than we would have otherwise gone, then this soul lives in us. Our hands and feet, mind and heart and mouth become the hands, feet, mind, heart and mouth of the departed soul.
From the Chabad website
The New York Times is hosting a guest book for Judy. If you knew her and would like to sign, you can find it here.
The Society for Crypto-Judaic Studies announced that it would name its annual conference concert in honour of Judy. The first annual Judy Frankel Memorial Concert took place on 3 August 2008 in Phoenix, Arizona.
May her memory be for a blessing